INNOVABRIDGE provides expertise and services in three thematic areas: Economic Development, Governance & Rule of Law and Environment & Sustainable Livelihoods. To ensure an emphasis on shared and sustainable prosperity, INNOVABRIDGE's strategic advisors are well experienced in integrating and working with cross-cutting themes including gender equality, social inclusion (youth, elderly, minorities), conflict prevention, and citizen participation.
Economic Developement

INNOVABRIDGE contributes to economic development in poor and emerging countries to improve the conditions for pro-poor economic growth.
Market system development
Balanced approaches to inclusion of the poor
Analysis of systemic bottlenecks in markets
Public-private partnerships
Services and market access facilitation
Analysis and advice on regulatory measures
Employment and Income generation
Skills and gender gap analysis
Value chain analysis
Coaching for feasibility studies and market investigation
Financial services facilitation
Temporal donor support approaches
Rural livelihoods improvement
Rural-urban dynamics analysis
Integral socio-economic and environmental approaches
Facilitation of new or improved production opportunities and market access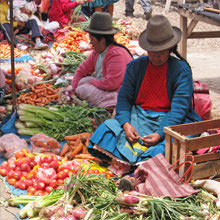 INNOVABRIDGE professionals have been instrumental to reorient international economic cooperation efforts towards pro-poor, gender-balanced market development. They have accompanied and shaped public and private cooperation efforts towards that aim. In many instances, they have helped design policies and projects – large and small – as well as implement complex programs. Through backstopping and evaluation, they improved project, program, sector and national development strategies.

For any enquiries, please contact